The Benefits of Botox
Since Botox was first approved by the FDA in 2002, millions in Miami – and all over the world – have jumped onto the Botox bandwagon as a way to freeze the effects of time on their skin, as they swear by the non-invasive ageing preventative.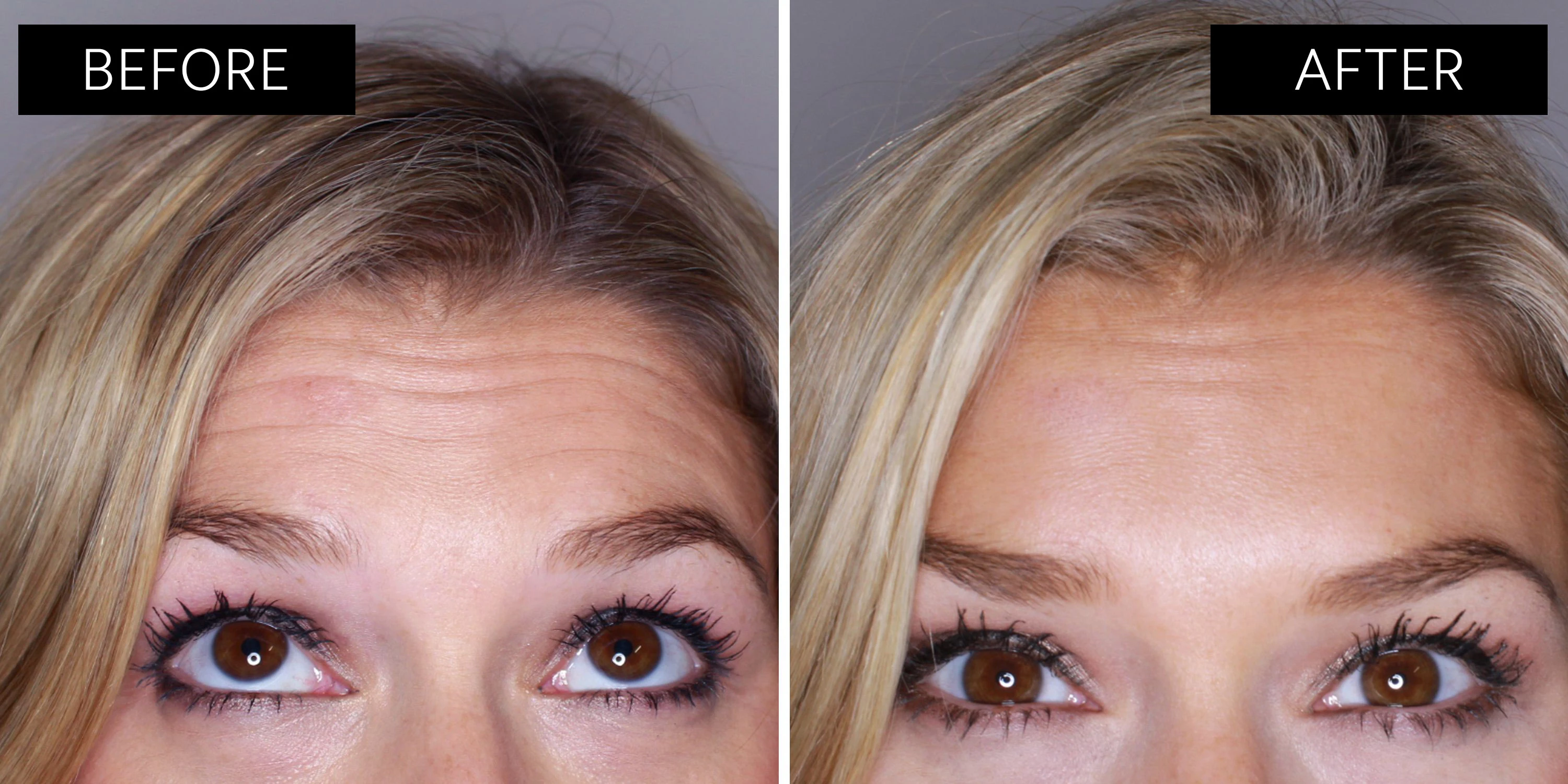 See the difference before and after forehead and brow treatments using Botox.
Eyes and forehead
Derived from Botulinum Toxin type A, and injected into the skin around the eyes and forehead, Botox blocks the nerve signals which cause your facial muscles to contract.
Botox prevents wrinkles from forming (and can smooth over the ones you already have).
Wrinkles form because we tend to make the same facial expressions over and over again. Over time, our skin loses its elasticity and the temporary lines you see when you smile or frown become more permanent. This is why we get wrinkles on our forehead, and around our eyes.
That's where Botox comes in
Since this age-defying chemical prevents certain muscles in your face from contracting, these lines don't form at all, even when you smile, frown or raise your eyebrows.
Botox can help to soothe a number of physical and medical complaints.
More than just a cosmetic treatment, Botox has been successfully used to treat a number of physical complaints and ailments.
For those who have a problem excessive sweating – medically known as Hyperhidrosis – or have a persistent eye or neck twitch, Botox can help to relax these overworking muscles. Moreover, Botox can be used to treat lazy eyes and people who suffer from severe migraines to boot.
It isn't permanent (but you'll reap the benefits even after the Botox wears off)
While some Miami dwellers complain about the temporary effects of the Botox treatment, since the treatment only last for a number of months, it's far better than the alternative.
Since the effects of Botox aren't permanent, if you decide you don't like it, it's not the end of the world. After a few months, the Botox will be flushed out of your system and your nerves will become 'unblocked', returning your facial muscles to their natural state.
What's more: your face will still reap some of the benefits from your months with Botox, even if you decide to stop getting treatments, since your skin will have had a few months rest, and the lines and wrinkles you had before will look less pronounced.
Non-surgical
Compared to the other anti-ageing procedures on the market, Botox is one of the safest, because it's non-invasive – you don't go under the knife, and you don't have to be put under anaesthetic.
As such, the likelihood of it going wrong is very, very slight, and the side effects – if you experience any – are mild, and don't last for very long. You may experience a small amount of bruising – but as the saying goes, pain is beauty.
So, if you're a Miami local and you're thinking about taking the plunge and getting your first Botox treatment, consider booking a consultation with Onix Botox at Home, to say no to ageing and wrinkles.
---